Lab News
2019
May 2019
Great time catching up with old colleagues and friends from Yale Immunobiology at AAI!
Diana hosts Judith Varner, UCSD, for the Salk Thursday Seminar Series.
April 2019
Diana hosts Tatiana Kutateladze, University of Colorado, Denver, for the Salk Thursday Seminar Series.
March 2019
Diana gives a talk at the SBP 12th Annual Genetics Training Program Retreat.
Diana hosts Shelley Berger, UPenn, for the Salk Thursday Seminar Series.
February 2019
Diana gives a talk on Jovylyn and Josephine's work on BAF complexes in macrophage development at the Keystone Symposia on Transcription and RNA Regulation in Inflammation and Immunity in Lake Tahoe, CA.
Diana attends the Keystone Symposia: Myeloid Cells in Santa Fe, NM.
UCSD Biological Sciences Recruitment with fellow epigenetics colleagues Dr. Shannon Lauberth and Dr. Julie Law.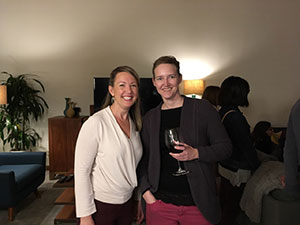 2018
December 2018
Congratulations to Jovylyn on her Nature Communications publication reporting the discovery of a BAF complex variant and its function in regulating embryonic stem cell pluripotency!
Read Press Release »
Fantastic work by collaborators Emily Dykhuizen, Tokameh Mahmoudi and Jerry Crabtree on the development of ARID1A-specific inhibitors to reactivate HIV. Happy that Hargreaves trainee Jovylyn Gatchalian could contribute to this story!
Super Salk T32 Cancer Symposium co-organized by T32 recipient Jovylyn Gatchalian and her fellow trainees featuring talks from Salk trainees and invited speakers Lewis Chodosh, Heide Ford, Jing Yang, and David Tuveson.
Great holiday parties with a great team!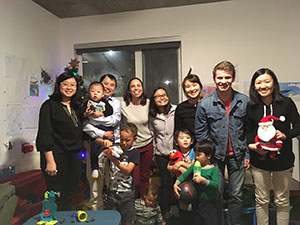 November 2018
Saddle up for the Padres Pedal the Cause Ride! Salk Cancer Center Director Reuben Shaw looking pumped!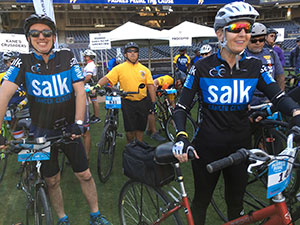 October 2018
Meeting fever!
Diana speaks about Jovylyn's work on a novel BRD9-containing complex at the 2018 International Symposium: Epigenetic Control and Cellular Plasticity at the Center for Epigenomics and Metabolism at the University of California, Irvine. Fangjian, Jovylyn, Jawoon, and Josephine also attend to hear fantastic talks from several giants in the field.

Fangjian and Jovylyn present posters at the Cell and Gene Meeting on the Mesa.
Jawoon presents a poster on her work with Josephine on the role of ARID1A in inflammation at the La Jolla Immunology Conference.
Jovylyn, Fangjian, and Jawoon present posters at the Salk by the Seaside Retreat. Fangjian wins the Minute to Win It!

September 2018
Diana speaks at the Cold Spring Harbor Laboratory Epigenetics and Chromatin meeting on Jovylyn's work about a novel BRD9-containing complex controlling embryonic stem cell pluripotency.
Diana spends a great day with students after speaking at the Biochemistry and Biotechnology Symposium on Drug Discovery, hosted by the University of Missouri-St. Louis.
August 2018
Diana receives the R35 Maximizing Investigator's Research Award from the NIGMS/NIH! Here's to another 5 years of fantastic research!
July 2018
Diana is awarded the Richard Heyman and Anne Daigle Endowed Developmental Chair.

June 2018
Diana receives the Padres Pedal the Cause/C3 Collaborative Translational Cancer Research Grant for her collaboration with Dr. Ramez Eskander of Moores Cancer Center (UCSD).

Nick Elliot presents a poster at the International Society for Stem Cell Research Annual meeting in Melbourne, Australia on his research with Fangjian studying the role of BRM missense mutations in intellectual disability.
May 2018
Congratulations to Jovylyn Gatchalian, who was awarded the F32 Ruth L. Kirschstein National Research Service Award (NRSA) Individual Postdoctoral Fellowship from the NIH! Kudos to her for her hard work and grantsmanship!

Former Vice President Joe Biden speaks at Salk to launch our Conquering Cancer Initiative!

More fun with a lab outing at Torrey Pines State Park!

April 2018
Diana presents at 'Small Molecules for Cancer Immunotherapy', a Drug Discovery Chemistry event in San Diego, CA.
March 2018
Welcome to Julieta Tesone, postdoctoral trainee, who completed her Ph.D. in Dr. Conejo-Garcia's lab at the Wistar Institute in Philadelphia, PA.
February 2018
Congratulations to Shivani Malik for accepting a position at Ionis Pharmaceuticals! We wish you well!
Shivani's last day—we wish you all the best in your new position at Ionis Pharmaceuticals!
January 2018
Welcome to Jawoon Yi, our new research associate, who joins us from the Korea National Institute of Health. We are looking forward to great science and your homemade Jajangmyeon!
2017
December 2017
Diana presents at the University of California, Irvine Epigenetics Day.
October 2017
Diana gives a talk and Fangjian presents a poster at the Cell and Gene Meeting on the Mesa.
New paper published in eLife!
Congratulations to Timothy Kelso and Devin Porter on the acceptance of their paper to eLife describing the synthetic lethality of SWI/SNF subunits!

Get ready for the annual Padres Pedal the Cause fundraiser! Please consider donating to support the Salk Cancer Team!
100% of proceeds go to support cancer research at the Salk Institute and collaborating member institutions Sanford-Burnham Prebys, UCSD Moores Cancer Center, and Rady Children's Hospital)
September 2017
Jovylyn Gatchalian is selected for a T32 training fellowship through the Salk Institute Cancer Institute! Congratulations, Jovylyn!
August 2017
Great time interacting with colleagues and friends at the bi-annual Mechanisms and Models of Cancer!

Welcome Nick Elliot from the CIRM Bridges to Stem Cell Research Internship Program! We are delighted to partner with the San Diego State University to train the next generation of stem cell scientists!
July 2017
Welcome Josephine Ho, master's graduate from Wesleyan University!
June 2017
Welcome Shivani Malik, a visiting collaborator from University of California, San Francisco!
April 2017
NSMB paper is out! Diana enjoyed working with colleagues from the Crabtree Lab to elucidate the role of TOP2 in BAF-dependent chromatin remodeling. Check it out! https://www.ncbi.nlm.nih.gov/pubmed/28250416
Fangjian has a baby boy—welcome to the world, Dylan!
March 2017
The San Diego Chromatin Club organized by Bing Ren (UCSD), Ani Deshpande (Sanford-Burnham), Diana Hargreaves (Salk), and Chris Benner (UCSD) kicks off its inaugural meeting!
February 2017
Diana has a baby boy—welcome to the world, Gabriel!
January 2017
Fangjian is awarded the Salk Pioneer Fund Postdoctoral Fellowship!
Jovylyn Gatchalian starts her postdoctoral work in the lab!